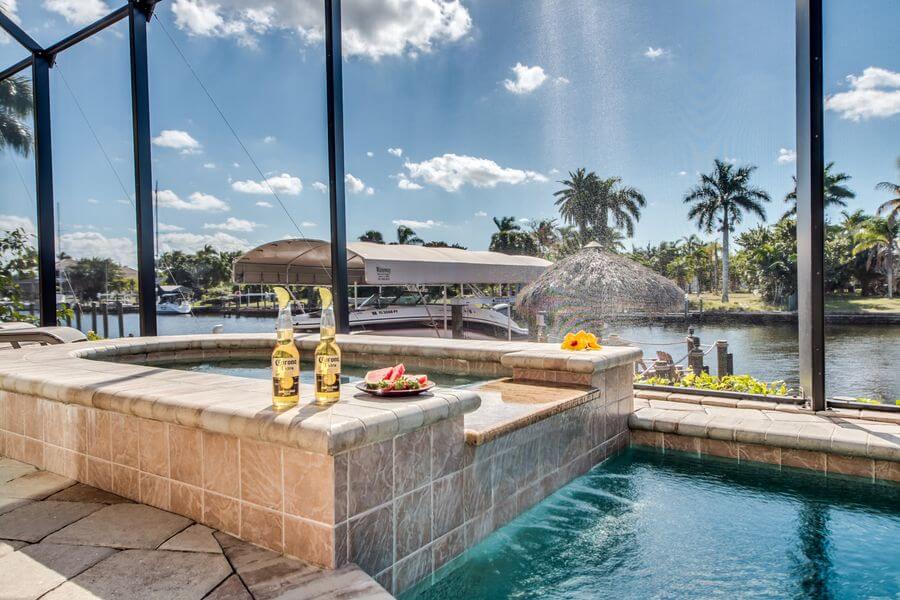 Villa The Beachwalk
a dream home directly on the river
The beautiful villa The Beachwalk is located in one of the best areas of Cape Coral close to the Caloosahatchee River and will delight you with its comfortable layout and decor. If you are looking for a particularly beautiful holiday home in Cape Coral, the way you want it, you have arrived in the correct spot. Amenities of The Beachwalk are a spacious sun terrace with a swimming pool and a hot tub as well as a private boat dock with a direct access to the water. Don't be surprised if some curious dolphins will peek in to visit.
The lanai is separated by large sliding doors from the living room, that can be opened in the evenings to let in fresh air. Inside, next to the living room with comfortable furniture, is a flat screen TV and stereo, a kitchen, a large dining table and four bedrooms with en-suite bathrooms. From the balcony a staircase leads up to the observation deck, you can watch the day go by on the Caloosahatchee river and star gaze at night on the roof balcony.
Pure relaxation in Cape Coral
The Beachwalk is just a two minute boat ride from Caloosahatchee River along a picturesque canal. Since the house is located on a small cul-de-sac, a quiet and relaxing stay is ensured. The famous fishing pier of Cape Coral and the neighbouring small beach is also within walking distance as well as everyday shops and businesses. The use of our four bikes and kayaks by the way are already included in the rent, so you can easily undertake short trips at sea and on land.
Amenities of The Beachwalk include a 12-meter swimming pool with our endless pool swimming machines and jacuzzi, a spacious sun terrace with covered seating and a barbecue as well as a beautiful garden. A balcony on the first floor and the observation deck on the roof provide further retreat options and plenty of privacy.
All four comfortable bedrooms have their own private bathrooms. The two Master suites are equipped with a king size bed and a bathroom with toilet, shower, tub and bidet. In the other bedrooms there are two single beds or a queen bed and a bathroom with shower and toilet. Both in the bedrooms and in the living room you will find a modern flat screen TV, which also receives German TV and internet access. Of course, all interiors are fully air conditioned and additionally equipped with ceiling fans.
During your stay you can use the entire amenities of The Beachwalk that are available, but please treat the home with proper care. Above all, we would like to point out that there is no smoking in the house. Please use the Observation Deck or outdoor area for this purpose. Should we find that you smoked indoors, we will need to ask you unfortunately for a professional cleaning of the air.
If desired, you can additionally rent our motor boat on the Hurricane deck in order to explore the area. Please mention this in your booking request. And if you simply love The Beachwalk and you want to come back again, you can store certain items such as beach toys or sports equipment in a locked storage area. The key you may take home with you.
Equipment Villa The Beachwalk
Equipment
General
Alarm clock
Overhead fans
Hair dryer
Security system
Towels
Telephone
Air Condition
Central heating
Bed linen
Safe
Kitchen
Grill
4-plate stove
Cooking equipment
Electric mixer
Ice cream maker
Dishwasher
Refrigerator
Oven
Microwave
Washing machine
Tumble dryer
Ironing board and iron
Coffee maker
Toaster
Ceramic hob
Diningroom
Dining area
Seating for 8 persons
Bathroom
Bathroom 1: WC, bathtub, shower, bidet
Bathroom 3: WC, shower
Bathroom 2: WC, bathtub, shower, bidet
Bathroom 4: WC, shower
Bedroom
Bedroom 1: 1 Double bed
Bedroom 3, 1 French bed (large)
Bedroom 2, 1 Double bed
Bedroom 4, 2 Double bed
Entertainment
TV
Satellite/cable TV
Radio
Stereo system
CD player
DVD player
Board games for adults
Board games for children
Billiard table
Internet
Wi-Fi
Internet-Connection
Outdoor
Wooden terrace
8 garden chairs
6 loungers
4 bicycles
Boat dock at the quay
Walkway to the beach
Kayak
BBQ-Grill
Motorboat
Garden
Terrace
Balcony
Parking space
Garage
Swimmingpool
Heated pool
Private Pool
Suitable for
Not suitable for children
Non-smoking property
Long term tenants welcome
Suitable for wheelchairs
Suitable for seniors
Wellness / Relaxation
Whirlpool
Check availability in the booking calendar:
LOCATION
The Beachwalk is located in Deauville Court, a small cul-de-sac not far from the Fishing Pier. The pier, the beach of Cape Coral and shops for daily needs are reached on foot in a few minutes. To the marina you will walk about fifteen minutes. By boat or kayak, you can reach the Caloosahatchee River, the lifeline of Cape Coral and Fort Myers from the private dock in just a few minutes. The many smaller canals are perfect for being explored by kayak.
To downtown Fort Myers and the International Airport is about 30 minutes by car. We recommend that you rent a car at the airport, which allows you to not only reach your vacation home in Cape Coral but also conveniently reach a variety of excursions to nature reserves, beaches, shopping malls and museums in the region.
See more about our Holiday Home Villa The Beachwalk?
WELCOME TO "THE BEACH WALK" – OUR DREAM HOME IN FLORIDA!
With our luxuriously decorated vacation home in Cape Coral, we have realized our very special dream: two tastefully furnished floors in an Asia-inspired style are complemented by a sunny outdoor area with pool and boat dock on the waterfront. Because of extra large sliding doors the transitions between the living room and lanai are almost effortlessly fluent. An observation deck on the roof offers magnificent views during the daytime of the surrounding areas and in the evening it offers wonderful hours under the stars.
For our guests there are four bedrooms available, each equipped with a private bathroom so that privacy is guaranteed. All rooms in the house are fully air-conditioned and also have ceiling fans, which provide natural air circulation. For both cars a large garage is available as well as a place to park right outside the house.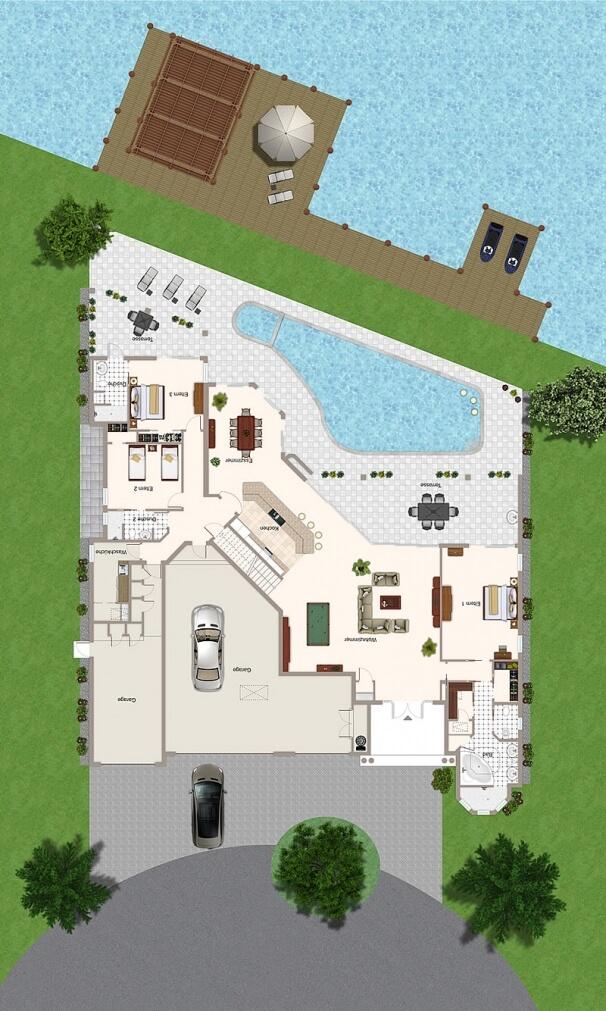 The ground floor of The Beachwalk
The ground floor provides a spacious living room which is separated only by sliding glass doors from the pool area on the lanai. The living room offers a comfortable couch area, which is around the flat screen TV, a pool table and a dining area with large table which accommodates up to eight people. The kitchen is equipped with a bar in a modern open style, where you can have a bite to eat.. Furthermore, a total of three bedrooms, each with a private bathroom are on the ground floor, two of which have direct access to the lanai. You will also find a fully equipped laundry room with washer and dryer.
On the outside you will be particularly impressed by the 12 meter long saltwater pool. It is equipped with a pool swimming machine and an additional whirlpool. From here one can watch what is going on on the water with a cold drink in your hand. Maybe you will even be able to spy a dolphin. Next to the pool on the dock and in the large garden there is plenty of space for sun loungers. You have access to two tables where you can eat outdoors – ideal for an evening barbecue on the lanai.
The upper floor of The Beachwalk
The upper floor offers a wonderful retreat for parents seeking peace and quiet or a travelling couple with a high demand for privacy: on this floor is the largest bedroom with a separate bathroom and its own covered balcony. A staircase leads up to the viewing platform, which can be used for sunbathing during the day and for a sundowner in the evening.
Activities in The Beachwalk
The equipment of this holiday home includes four bicycles for discovering the surroundings on land and four kayaks for exploring the waterways. You can also rent one of our boats: The 8-metre motorboat can fit up to 12 people and can be easily navigated by beginners. It is ideal for exploring the area around Cape Coral and the offshore islands such as Sanibel.
Inside, The Beachwalk itself offers a variety of entertainment options, such as the pool table and the modern TV with internet access and satellite TV.
RENTAL PRICE for Villa The Beachwalk in Cape Coral
The rental terms listed are valid for a week with a minimum occupancy with two full paying adults. Please note mandatory additional costs involved if necessary.
The payment of the rent is only possible in the specified currency by the landlord (Euro).
Prices
Persons
min. stay
per week
per night
house cleaning
one-off cost
house deposit
one-off cost
*Electricity
per consumption
Up to 4 Pers.
1 week
2732,00 €
390,29 €
250,00 €
750,00 €
yes
More than 4 Persons?
Every additional Person: € 250.00 / Week
Every Child till 6 Years: € 125.00 / Weeks
Every Child between 6 – 12Years: € 250.00 / Week
Christmas/ Eastern/High-season
Christmas: 20% extra charge (one day before and 14 days after Christmas)
Eastern: 20% extra charge (3 days before and 7 days after Eastern)
High-Season: 20% Supplement mid december till the end of april
Tax
We charge 5% Tourist Tax and 6.5% Sales Tax on the price of the overnight stay.
*Electricity
yes = Cost of electricity is calculated according to local tariffs.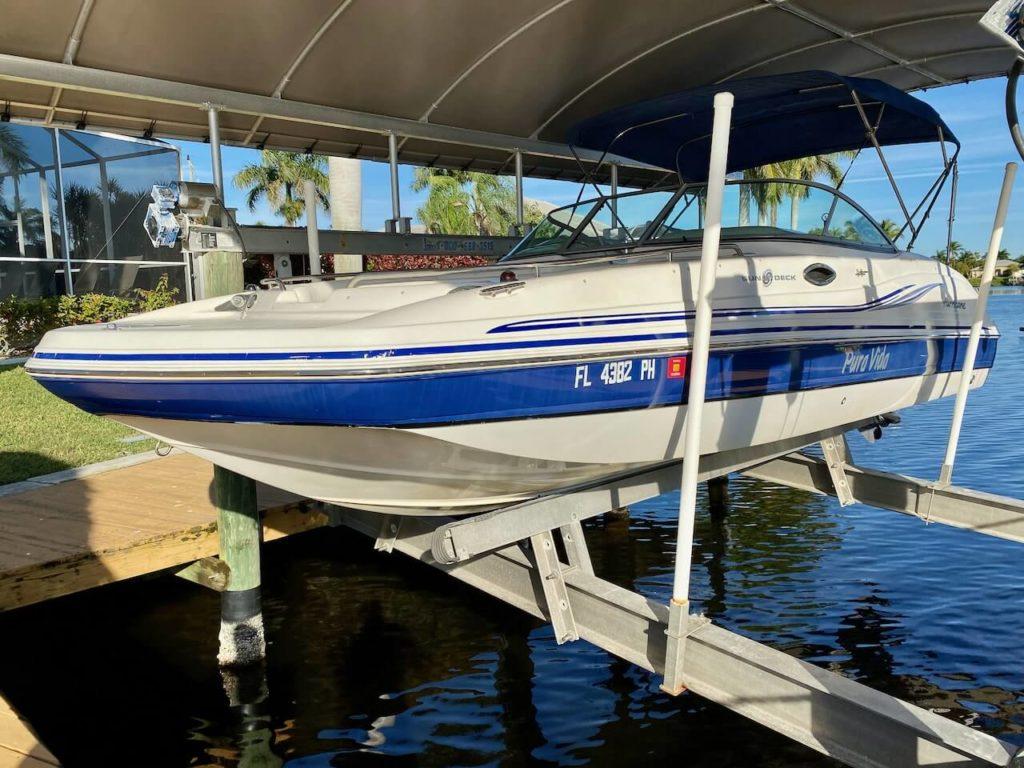 Our Rental Boats
Enjoy the beautiful waterways of Cape Coral, the beaches of the islands nearby or explore the mangroves from the water side. Whether you are a passionate water sports person or a hobby skipper, with our boats you can explore all the waterway and the Gulf of Mexico.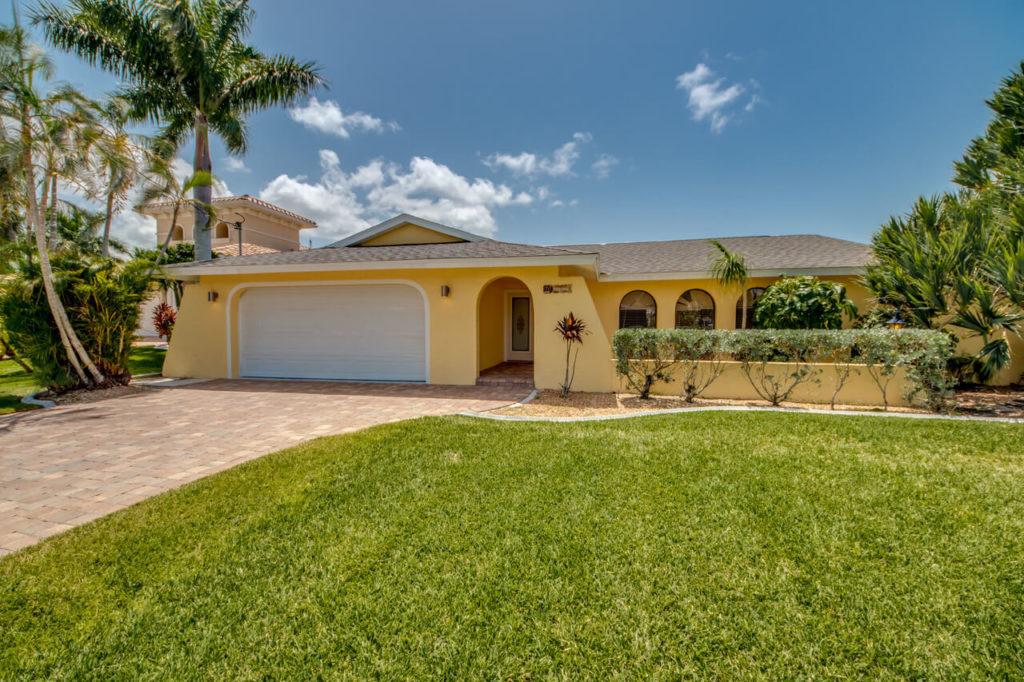 Villa Pura Vida
This holiday home is made for a perfect family holiday in Cape Coral. A clear and modern interior fulfills every wish. Close to the beach of Cape Coral and directly on the waterway which is only 2 min away from the open water, it is every boater's dream.
Villa The Tao
Our Villa Tao has a modern Asian ambience. Close to the marina of Cape Coral, you can reach the open waters in only 2 minutes by boat. With convincing equipment, a heated pool and the sunny terrace, the owners of this beautiful holiday home in Cape Coral spend their time here during the winter months.